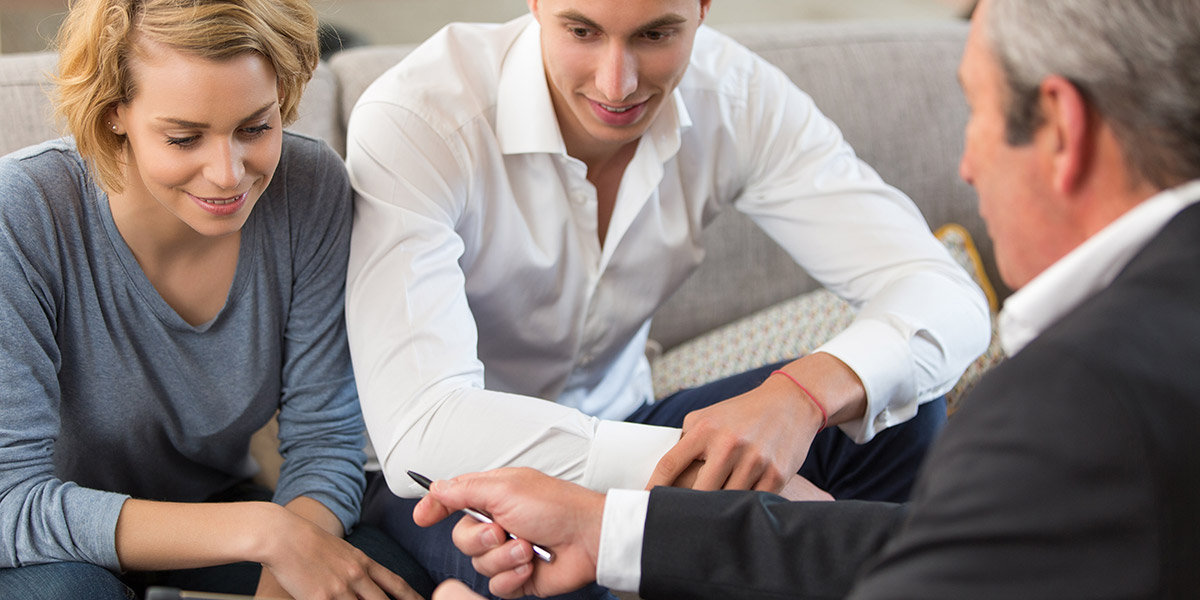 Buying a house is more complicated and overwhelming than it was a decade ago.
With tighter mortgage requirements and higher real estate prices, it would be smart for any Canadian dreaming of owning a home to use all available resources to help him achieve his goals.
The real estate industry in Canada is made up of licensed professionals that offer expert services to consumers. Included among these professionals are mortgage brokers who assist buyers in finding the right home financing for a residential or commercial property.
Compare mortgage brokers in Ajax to find the best mortgage in just 2 minutes!
Fill out a short form on this page to receive free mortgage offers.
These offers are NO OBLIGATION!
How to get the best mortgage in Ajax
What is the first step to buying a house? No, it isn't looking for a house for sale or visiting open houses. Actually, the very first step to buying a house is obtaining a mortgage.
That's right, you need to secure home financing before you even start looking at properties or talking to an agent. In fact, most real estate agents and brokers would ask you first if you already applied for a mortgage before considering you as a serious buyer.
The moment you decide that you want to buy a house, find the best mortgage in Ajax with the help of a great mortgage broker.
Reasons a pre-approval comes first before home shopping
If you want to buy a house in Ajax, you must first determine how much you can afford to pay.
You need to think about the amount you have for the down-payment as well as additional costs for closing on the property.
A mortgage pre-approval will help to find out how much you can qualify to borrow from a lender so that you can plan your budget.  No use looking at houses within a price range that is out of your reach.
If you need a mortgage pre-approval to buy a house, speak to an experienced mortgage broker. He will inform you about the best mortgage types available that are based on your needs and present your case to different lenders to secure the best mortgage.
How does a pre-approval work?
You can get a pre-approval as early as 120 days before you look for a house to buy.  It is not a guaranteed mortgage approval but merely a preliminary check if you meet a lender's qualifications.
A pre-approval gives you the confidence that you need that you can buy a house in Ajax.  A seller/real estate broker will also take you seriously if you make an offer to purchase if you already have a pre-approval on hand.
Many lenders provide a certificate of a pre-approval. It will ensure that you have the funds you need to buy the home of your dreams at any moment.  The interest rate is also locked-in for the period of time that the pre-approval is valid.
The best mortgage deals are from mortgage brokers, not banks
If you need to get a good mortgage deal, you don't go to a bank. Rather, you go to the best mortgage broker in Ajax that you can find.
This is because mortgage brokers have access to the lowest rates in the market from a wide variety of lenders.
When you approach a bank to take out a mortgage, the bank can only offer you its own mortgage products and rates. In order to compare with other banks, you will need to apply at multiple financial institutions which could hurt your credit.
In contrast, a mortgage broker is your single point of contact and he will take care of shopping around for the best mortgage for you!
Get access to the lowest rates from over +20 financial institutions, all at the same time!
Fill out the form on this page to connect with qualified brokers near you.
A variety of mortgage services under one roof
Every person who needs a mortgage would have different requirements and financial goals.
A first-time homebuyer would need to get a pre-approval at the earliest stage of the buying process.
A homeowner with a mortgage may need to renew a mortgage at a lower rate or switch to a new lender. He may also want to change mortgage types such as from a fixed rate to a variable rate.
At some point, a homeowner may need additional funds to renovate or to consolidate debts.
All of these requirements can be handled by a mortgage broker in Ajax with utmost dedication and professionalism.
✓    Pre-approval
✓    Renewal
✓    Refinancing
✓    Home Equity Line of Credit
We  have over 110 mortgage partners in our network working with +20 financial institutions throughout the province.
There is only 1 short form online to fill out to start your mortgage application. It only takes 2 minutes to start comparing mortgage offers from experienced brokers in your area.
GET YOUR FREE QUOTE TODAY!
Reasons to use our platform to compare mortgage quotes
Looking for the right mortgage can take a lot of time and cause you unnecessary stress. If you start shopping for a mortgage on your own, you will soon discover that every lender offers mortgages with varying rates, terms, and conditions.
Our mortgage broker partners can make it easy for you to find the best mortgage that suits your needs!
When you have a qualified and experienced professional by your side, you can get answers to all your questions to make sure that you understand the ins and outs of your mortgage.
When it comes to your mortgage, there should never be a Eureka moment. Full disclosure is critical so you can effectively manage your mortgage and save on costs.
Completely Free Services, No Obligation Quotes
The primary goal of our service is to connect you with the best brokers in town so you can get the help you need for your mortgage.
There are many mortgage brokers and you don't have time to interview each and every one of them!
We make it easy for you by matching the criteria you provide in the form to look for a broker that matches what you need.  Our mortgage partners will study your file and look for the best mortgage offer from multiple lenders for your consideration.
Mortgage shopping from the comfort of your own home, hassle-free, and without cost!
Only 2 minutes to fill out our short form and connect with the best brokers in Ajax.
Understanding how your credit score affects your mortgage application
Debt is part of life. And while nobody can totally avoid debt, how we manage debt and handle our finances matters a lot, especially when applying for a mortgage.
A good credit history will help to fast-track a mortgage application and qualify you for lower interest rates.
Lenders will check your Canadian credit score
At the time of application, a lender will check on your credit score to see how you manage debt.  It is advisable for you to check your credit report before you approach a mortgage broker.  Verify the information thereat, work on any issues and report any inaccuraries to the credit bureau.
The saying that credit is king is 100% as far as mortgage applications go. If you plan to be a homeowner soon, take very good care of your credit.
If you have a less than picture-perfect credit history, it does not mean you can't get a mortgage. By speaking to a mortgage broker, you can get professional advice that is suited to your personal situation.
Frequently Asked Questions about Mortgages in Ajax
Understanding the different types of mortgage options available for you and making the right choice for your mortgage will help you to manage your finances better.
Below are frequently asked questions about mortgages in Ajax that can help you make a well-informed decision.
How much can I borrow?
Every lender has its own guidelines when it comes to mortgage applications. In general, the calculation for the amount you can borrow will depend on your income, the amount of your down-payment, and the price of the property you want to buy. You can get more accurate information regarding how much you qualify to borrow by speaking to a mortgage broker.
How much do I need for the down-payment?
In Canada, the minimum amount for your down-payment is 5% for homes below $500,000.  You must show that you have additional funds to pay for the closing costs. However, if the purchase price is $1 Million and above, you must have at least 20%.
Keep in mind that the less you borrow, the lower your overall interest charges on your loan.
Can I qualify for a mortgage if I have declared bankruptcy?
There may be lenders willing to consider your application if the bankruptcy has been discharged. It is best to speak with a mortgage broker or a financial adviser to determine if you would qualify.
Where can I get funds for a down-payment on a house?
It is best to use your own savings for a down-payment. You could also tap into your RRSP savings (up to a maximum of $20,000). If a family member gives you a cash gift to be used toward the down-payment, a letter will be required stating that it is not a loan to be repaid. Your down-payment must be verifiable.
What are other costs related to a mortgage application?
The usual costs would include am appraisal fee, insurance for the property and the applicant, legal costs and taxes.
How long is a mortgage application process?
As long as you provide all the necessary documentation and information to your broker, an application can take as little as 2 weeks.
When is it advisable to refinance a mortgage?
If you are a homeowner, you can manage your debts with high interest rates by refinancing an existing mortgage or with a debt consolidation. This allows you to pay off all your debts with a single payment and take advantage of your lower mortgage rate.  You will also be able to structure your payment plan in order to have an assured date of full payment.
There are many questions to ask before you decide on your mortgage. Since a mortgage could be the single biggest loan agreement you enter into in your life, it must be given a lot of thought.
It is best to get advice from a qualified and licensed mortgage broker to get answers to all your questions and help you choose the best mortgage for your needs.
Think before renewing a mortgage
Most households share one common expense: a mortgage. Although mortgage payments represent the biggest expense of most Canadians, studies show a good number of people just renew automatically with their lender.
When the times comes to renew your mortgage, you get the perfect opportunity to review your needs and your financial goals.  Your lender will surely send you a renewal notice early on but don't sign on the dotted line just yet.
Below are the steps you should take for renewing a mortgage:
Shop around as early as 150 days prior to maturity.
Do research from other lenders' sites before renegotiating your rate with your lender. Knowing the rates other lenders offer (if lower) can help you get your bank to match it.
Ask for a better rate from your lender. They don't automatically offer the best rate to their clients.
Negotiate other terms, not just the rate. You can ask about the amortization, variable or fixed rate, as well as payment schedule as these could all help to lower your overall costs.
Be open to changing lenders. If you can get better terms from another lender, go for it.
Find a good mortgage broker to help you with your mortgage renewal.
Automatically renewing a mortgage is like giving up your wallet to your lender. Get mortgage offers to compare or better yet, speak to a mortgage broker for advice. As a professional, he can do the shopping to save you time and give you a variety of options.
A top mortgage broker in Ajax can help you save thousands of dollars
Studies show that majority of borrowers who use a broker to get a mortgage pay less than the people who don't.
A mortgage broker can help you to save thousands of dollars over 5 years of your mortgage.  Did you ever stop to consider that even just a half percentage point can save you as much as $10,000 over 25 years of amortization for just a $150,000 mortgage? Think how much more you can save with a higher mortgage.
Get the lowest mortgage rates from +20 financial institutions!
We have over 110 experienced and reliable mortgage brokers, ready to help you.
Save thousands of dollars by filling out a short online form.